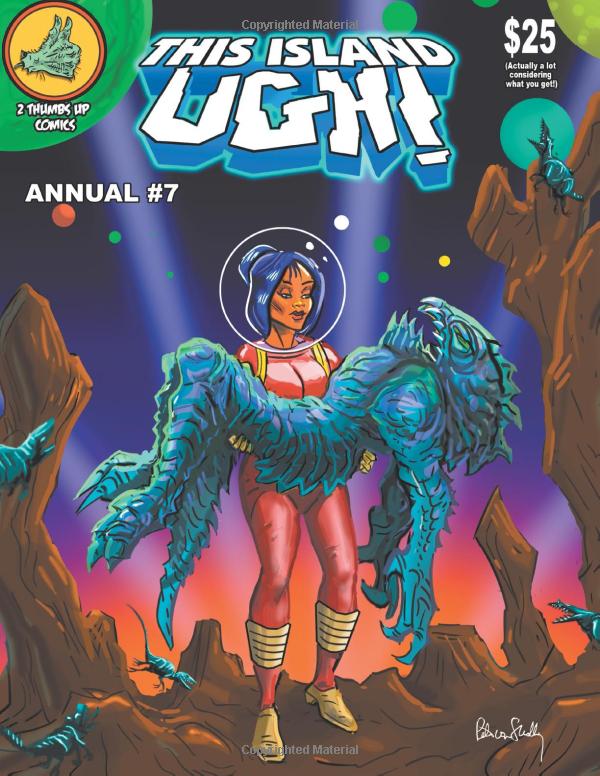 Welcome to the planet! Caltiki's Lovecraftian cousin loves it here, ravenous black holes seek us out From Beyond Beyond, rent gets paid or you get hunted down like vermin by the super-rich in their walking war machines, shtick around for punchlines and puns to die for, mummies no longer fester in the earth but rise to conquer, puppets have ideas of their own, a man can kill you with a withering glance, visit the moon's prehistoric core and soar ahead to earth's devastating future, flush out monstrous gunk when the undrainable bubbles up, visit a pet shop of infernal affairs, read venomous verses and get your fill of filler!
THIS ISLAND UGH! delivers all this and more—it's the work of Pete Von Sholly, former Disney Imagineer and storyboard artist on over 100 feature films (some of which you've heard of) whose books have been published by Dark Horse, IDW, BOOM!, TwoMorrows, Last Gasp (with Timothy Leary), Kitchen Sink, Clover Press, and others.
Pete is running rampant in all his favorite genres and themes and doing the work he's always wanted to do but was too busy working for others to concentrate on.
Get yourself a copy and kick back with it. It's kind of like if MAD married CREEPY and things went really wrong with the offspring—but in a delightfully screwy and entertaining way.