Pete Von Sholly has been drawing since childhood, when he was mesmerized by the hit magazine FAMOUS MONSTERS OF FILMLAND and began devouring classic monster movies on black and white television long after the family had gone to bed. His fascination led to a long career as a Hollywood storyboard artist on over 100 feature films, including The Shawshank Redemption, The Green Mile, The Mist, The Mask, Darkman, and Mars Attacks. He has storyboarded a Pumpkinhead, a Pinhead (Hellraiser series), one Jason from Friday the 13th, two Freddy Kruegers (three and four) and three Chuckies, (Bride of, Seed of, and Curse of)! In addition, he has churned out monster-filled graphic novels, model kits, and trading cards published by Dark Horse, IDW, BOOM!, Kitchen Sink, Clover Press and others. He has created lavishly illustrated editions classic horror books by H.P. Lovecraft, Joe R. Lansdale and Stephen King. Even his two ventures into political satire, praised by the Washington Post and cited by the Village Voice as best comics of the year, graphically depict what he considers the real monsters of our time: politicians. He's worked for Disney Feature animation and been an Imagineer at WDI for 8 years.
Von Sholly has recently assembled a comprehensive collection of his visions specifically based on the works of the Providence author and myth-maker, H. P. Lovecraft.

Von Sholly has just assembled a comprehensive collection of his visions specifically based on the works of the Providence author and myth-maker, H. P. Lovecraft. Here are over 325 illustrations with commentary based on Lovecraft's entire body of fiction with an endorsement by is pre-eminent scholar and biographer, S. T. Joshi. This latest collection of Von Sholly's art takes us from the nightmare caverns at the earth's core to the outer reaches of the cosmos where Lovecraft saw "the dark universe yawning, Where the black planets roll without aim, Where they roll in their horror unheeded, without knowledge or lustre or name." * A must have for Lovecraft enthusiasts.
He also has 89 issues of Stories to Make you Say UGH! done as mini comics strictly for his convention appearances which he periodically collects into anthologies, sold through Kickstarter campaigns previously and coming forty as print-on-demand collections and in digital form soon.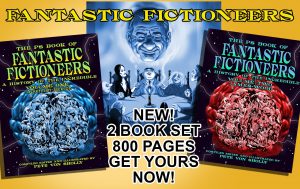 And of course, there is the monstrous tome, FANTASTIC FICTIONEERS.
From the book: FANTASTIC FICTIONEERS – the Saga
"I had something much simpler in mind. Way back I don't even remember how far, I wanted to do a book celebrating my favorite writers and artists, talking about how they influenced not just me, but each other and even the world. I had a group of portraits and some text and a general idea so I approached the ever amazing and unpredictable Pete Crowther with the notion. He had been foolish enough to hire me and work with me on such things as the Lovecraft Library, Ramsey Campbell's Limericks of the Alarming and Phantasmal, Joe Lansdale's Christmas Monkeys, Stepehen King's Skeleton Crew and other bits of illustration- even the legendary PS Christmas cards every year for the past several.
I don't want to say "unfortunately"- that wouldn't be the right word, but as it happened, Pete C loved the idea and wanted to expand my limited list of favorites to a hundred or so subjects- and the include all manner of images relating to their works and lives. I enlisted the redoubtable (whatever that means) Ernie Farino for the layouts and he brought a whole world of ideas and creativity to the process. The books you see them have as much to do with Ernie as anyone else. I can brag about what we call the "Farino Finesse" all I want- and I do.
Of course, the seventy some contributors who generously and lovingly wrote the essays herein must be thanked profusely as well. Several distinguished writers such as Richard Milner and S. T. Joshi blessed us with several pieces each and one of my great joys is that now all these kind men and women get to see the fruits of the labors of us all in one place. I hope they are as happy as I am with the results.
Over the months (and yes, years) the book had become a kind of Frankenstein's monster in that it had grown out of control and was turning on its masters. It was too big for one book, too expensive to print and a project so eclectic we weren't sure who exactly the audience might be. To make a long story a little less long (too late for short) the book slumbered, awoke, raged, slumbered again and so on until Pete and the PS gang decided enough was too much and to unleash the thing.
I had some prototypes printed along the way and everybody who saw them wanted the book. The problem was the book was hard to describe in short compass so my long time friend Richard Milner kindly supplied the following:"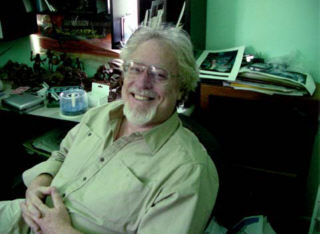 And I say "amen"!