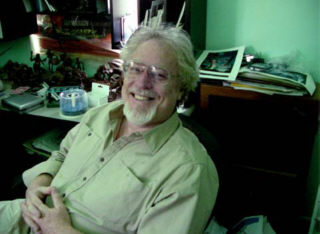 PETE VON SHOLLY is a writer, artist, director, and producer with a leaning toward the fantastic side of the arts (some would use less generous words like weird, insane, morbid - what do they know?!) CAPITOL HELL is his first venture into the political satire arena (unless you count Hollywood politics).

Von Sholly's storyboards (and/or design) for over 100 feature films include Mars Attacks!, Disney's James and the Giant Peach, Darkman, The Mask, The Shawshank Redemption, The Blob, Nightmare on Elm Street III and IV, The Waterdance, The Green Mile, Click, The Mist and more.

Pete has written and illustrated thee quasi-fumetti graphic novels: : Morbid, Morbid Volume 2 and Extremely Weird Stories, (Dark Horse Comics) and three satiric magazines for TwoMorrows, Crazy Hip Groovy Go Go Way Out Monsters (2 issues) and Comic Book Nerd which parodies (gulp!) comics fans and fanzines. Self-published titles from Von Shollywood Press include Sergeanstein and his Maraudin' Monsters and Here Doesn't Come the Flying F-ck.

Pete has had a lifelong interest in prehistoric animals and often fantasized as a child about having little dinosaurs for pets. The highly successful Prehysteria, from Moonbeam/ Paramount Home Video (the all-time best selling DTV title) is his attempt to put this fantasy on the screen for the enjoyment of families. Pete wrote the original story and screenplay and also directed second unit, co-produced and did storyboards. Sales came to over 70,000 units. Two sequels have been filmed with Pete's performing in similar capacities. His wife, Andrea Von Sholly designed and sculpted the five animals seen in the film.

His next feature, from his own original story, was another Moonbeam fantasy called Pet Shop for which he also co-produced, storyboarded and directed second unit.

Pete has been featured in Comic Book Marketplace, Prehistoric Times magazine, From the Tomb and in feature articles in Fangoria and Rue Morgue.

Together with noted dinosaurologist, Donald F. Glut, Pete formed a record company called Fossil Records. They created and performed three successful collections of songs with humorous and educational overtones called Dinosaur Tracks. These cassettes are sold at museums around the world, including the Smithsonian Institute, The Museum of Natural History in New York and the Chicago Field Museum.

Pete is the writer/illustrator of the children's book Dinosaur Circus, and his illustrations have appeared in other dinosaur books, video boxes and calendars.

He has also made a series of forays into the cartoon animation world doing storyboards, layout, animation, writing, etc. (at Marvel Entertainment, Hanna-Barbera, DIC, Ralph Bakshi's, Filmation and others.) He was art director on the Ghostbusters and Bill and Ted's Excellent Adventure animated series. He has worked with Doug Trumbull on Ridefilm scenarios (Last Action Hero and Grand Slam Canyon).

He also has several new books forthcoming from Hermes Press, including The Zombie Pop-Up Book. Dark Horse even issued a model kit of Pete's version of The Thing as described in the original John W. Campbell story Who Goes There? Andrea Von Sholly sculpted this fabulous little figure.

Pete's latest project is a "horror thriller" feature film entitled Spinecrawler. He has written a script, designed all the creatures and storyboarded all the effects sequences and will make his full directing debut. Weird, well ... maybe. But who says weird is bad?