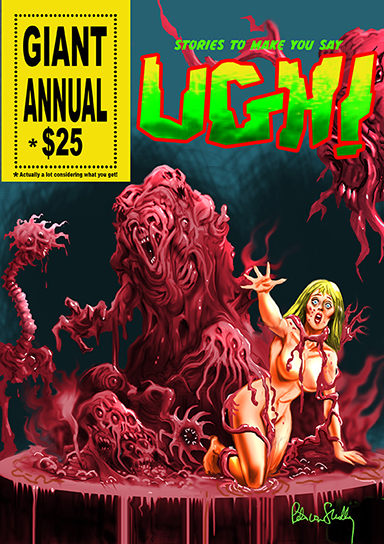 Pete Von Sholly's
STORIES TO MAKE YOU SAY UGH!
Stories to Make You Say UGH! is a collection of twelve macabre and twisted tales as only Pete Von Sholly could write and illustrate them. Dinosaurs, Monsters, Lovecraft, Zombies (and Zombie Dinosaurs!), King Kong (with a happy ending!) and all manner of wacky fantasy and blood-chilling horror creeps through these putrid pages. VERY RARE! Out of print, only a few copies left- so don't wait. Get one, get into it and get ready to say UGH!
RARE AND OUT OF PRINT!
For foreign orders please enquire

*Please CLICK HERE if ordering from within the United States.